Tommy's Seafood Restaurant Oyster Bar is ALL about Conservation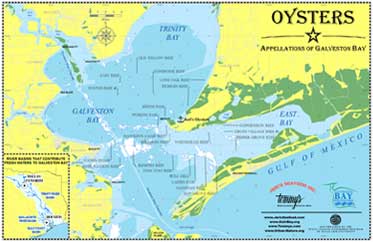 Tommy's Restaurant Oyster Bar Supports Conservation and Education to Protect Galveston Bay
Working toward a brighter future for Galveston Bay and the ecosystems in this area is one of the most important priorities for Tommy's Restaurant Oyster Bar. We are well-known as the premier destination for oysters on the half shell in Clear Lake and offer a mouth-watering array of steak and seafood selections. Our owners, managers and staff members are committed to ensuring sustainability for oysters and other marine wildlife. Tom Tollett, our owner, works closely with the Galveston Bay Foundation to protect this valuable ecosystem and has served on the organization's board of directors for a number of years.
View The Appellations of Galveston Bay Map
Oyster Shell Recycling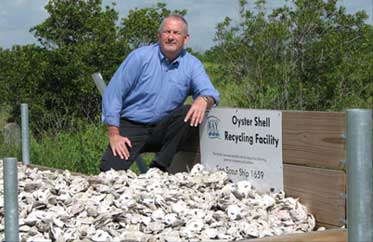 As a premier Clear Lake seafood restaurant, Tommy's Restaurant Oyster Bar has taken a leading role in the oyster shell recycling movement. Oyster reefs and beds in Galveston Bay have been adversely affected by recent storms that have dumped silt and debris atop these natural habitats. The Galveston Bay Foundation estimates that almost 60 percent of the oyster reefs in the bay were damaged or destroyed during Hurricane Ike. Remediating this damage is critical not only to the well-being of the marine life in the area but also to the seafood industry that depends on a reliable supply of healthy oysters from the Galveston Bay beds. The oyster shells recycled by Tommy's Restaurant Oyster Bar and other local restaurants are cleaned and used to rebuild reef habitats to protect marine life and to ensure a healthy supply of oysters for future generations of gourmet dinners. Since 2011 over 250 tons of reclaimed oyster shells are helping to revitalize the bay instead of going to landfills. 50 gallons of water can be filtered every day by one oyster.
Education Is the Key to Success
Tommy's Restaurant Oyster Bar is committed to providing expert education to local patrons and organizations regarding the importance of sustainable harvesting of oysters in Galveston Bay and the surrounding areas. Thanks to our close proximity to the Johnson Space Center and Space Center Houston, our NASA seafood restaurant has been privileged to serve many of the movers and shakers in the fields of astronautics and aeronautics. This association with the best minds in science has inspired us to educate others in our own field of expertise. As a leading Clear Lake oyster restaurant, we take pride in providing our customers with the most mouthwatering dishes and a little background on the marine conservation movement to make our area a better place to live, work and eat.
We are a family-owned and operated business with more than 25 years of experience in providing our guests with plump, absolutely fresh oysters prepared in a variety of ways to suit practically any palate. Our steaks are cooked to order and cut from USDA Prime Beef to ensure melt-in-your-mouth tenderness and flavor with every bite. We also offer a select range of appetizers and desserts to make your meal a delightful experience from start to finish. Make your reservation for a night out at Tommy's Restaurant Oyster Bar by calling 281-480-2221. We also accept walk-ins, so feel free to stop by anytime during our regular hours to enjoy the best in Clear Lake oysters, seafood and steaks served up fresh and delicious just for you.